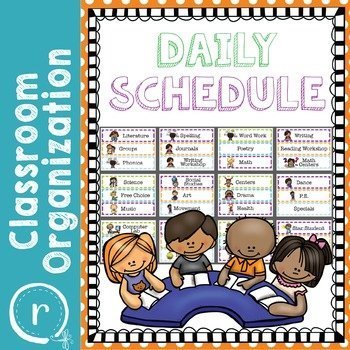 This set of bright polka dot schedule cards with illustrations (kid friendly pictures) will make a great visual reminder of your daily schedule! This set includes 84 schedule cards (with 5 different colored header cards).
All you have to do is print the pages with your schedule items, laminate, cut, and use.
Great with magnets on the back to use on your dry erase board, to use in a pocket chart or on your regular bulletin board!
Measures approx. 10 inches long by 2 inches tall.
Includes 84 Cards with the following labels:
Our Schedule (5 different colors)
Arrival
Morning Routines
Morning Jobs
Morning Work
Morning Meeting
Calendar
Announcements
Language Arts
Literacy Centers
Reading
Guided Reading
Reading Groups
Daily Five
Read Aloud
Shared Reading
Silent Reading
D.E.A.R
Reading Buddies
Literature Groups
Phonics
Spelling
Word Work
Writing
Journals
Poetry
Reading Workshop
Writing Workshop
Math
Math Centers
Science
Social Studies
Centers
Free Choice
Art
Drama
Music
Movement
Health
Dance
Computer Lab
Gym
P.E.
H.E.
Library
Specials
Reward
Birthday
Party
Clean Up
Star Student
Thematic Unit
Mystery Reader
Circle Time
Handwriting
Guidance
Social Skills
Breakfast
Lunch
Snack
Recess
Rest Time
Quiet Time
Class Meeting
Special Visitor
Show & Tell
Assembly
Field Trip
Review
Quiz
Test
Pack Up
Dismissal
Unpack
Wash Up
To get access, purchase a VIP Membership here.