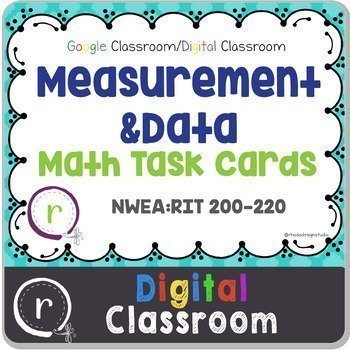 This document is for a paperless classroom and will work with laptops or iPads. If you don't have access to Google Classroom, you can still use it as a PowerPoint presentation or print as a paper lesson.
Skills are for the NWEA RIT Band 201-220: Measurement and Data
Measurement of objects, reading graphs, area, and perimeter, and time.
These can be used as review, independent centers, or to assess skills that your students need to master.
Even if your school doesn't use MAP testing, these task cards make a great review and practice for 2nd and 3rd grade or remedial practice for 4th grade.
What you need:
1. Internet access and a Google account.
2. A device to present the information to your students or individual devices and Google Classroom.
How the Process Works:
1. Click the link to access your digital resource.
2. When prompted, click to "Copy" the file. The link will automatically make a copy of the editable product that you purchased and add it to your Google Drive.
3. Move the file the drive folder of your choice, or share it to your school file.
Note:
The product is a digital version of my Intervention/Test Prep products. One is in PDF format and available for hands-on use. This product is intended for digital use.
To get access, purchase a VIP Membership here.