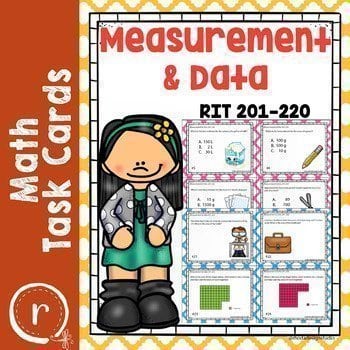 Once your students have taken a math placement test, a benchmark test or standardized testing (SBAC, NWEA Maps, etc.) you can use these math questions to help practice math concepts.
Help your students develop their current math skills and introduce them to the next level of Common Core State Standards.
Use these task cards as math games, in conjunction with math worksheets, and extra math practice.
Practicing with these math cards will help your students with state standardized math testing, provide RTI (response to intervention), and engage them in everyday math practice.
You can use these during small math group time, math centers, and individual math practice time.
NWEA MAP task cards that cover skills for the RIT Band 201-220: Measurement and Data Measurement of objects, reading graphs, area and perimeter, and time.
These can be used as review, independent centers, or to assess skills that your students need to master.
Even if your school doesn't use MAP testing, these task cards make great review and practice for 2nd and 3rd grade or remedial practice for 4th grade.
36 quarter sheet task cards (4 tasks per sheet).
To get access, purchase a VIP Membership here.