This question pops up for new sellers frequently. You have just finished a resource that you poured so much energy into that it feels like a member of the family now. The next thought that pops into your head is "when is the best time to sell my TPT product"? Do I list it right now? Sunday evenings? The middle of the week?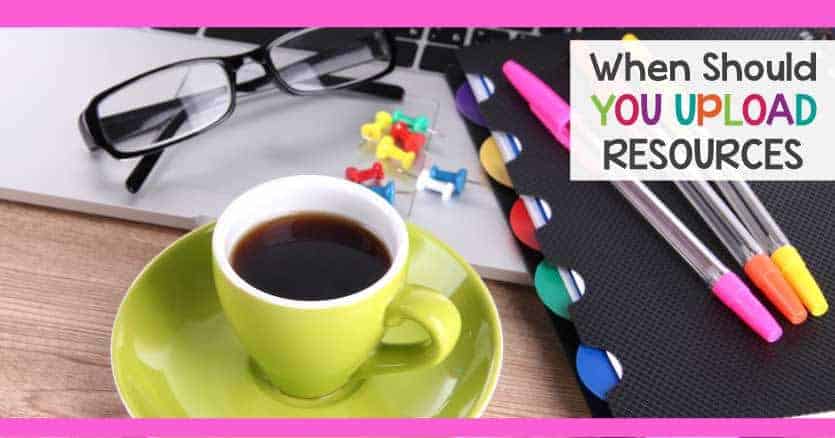 *this post contains affiliate links, please read my disclosure for more information
There is one consistent answer to this question.
List it now. 
Upload it and make it live as soon as you have finished going through it with a fine tooth comb and you are sure you have everything in its place.
TIP: Nothing will ever be perfect, please don't wait for that moment. You can always go back and revise, edit, and update. 
When you have finished creating your resource and you ask yourself, "Is this the best time to sell my TPT product?".
Ask yourself these 3 questions as a checklist:
Is the product complete and ready to be used in a classroom by another teacher?
Do I have a preview created for this product?
Are my social media images ready for this product? (whichever platforms you use, but definitely Pinterest!)
If you can answer "YES" to these three questions then it's time to upload your product and get it out there. It can't sell if you don't list it!
Were you ever an eBay seller? There were optimal times to list an item when you sold on eBay. If you listed at the wrong time of day, or even the wrong day of the week, your views were horrible. The likely hood of a bidding war at the end of the auction was slim to none.
Teachers Pay Teachers is not an auction platform. Your listing will be on the site indefinitely (or until you choose to remove it).
There are great sales days of the week. There are also better months than others. But there are not optimal times to actually upload your product.
One of the great things about listing an item on TPT is that your followers will get a notification that you have added a new product. If they have opted in for the notification email it will show up in their inbox the next day. Users of the TPT app will also see your new listing when it is first added. This is a huge benefit and it happens each time you upload a resource.
The next time you hear this question in your head "is this the best time to sell my TPT product?", just know that it's always a good time to list a product and that the sooner you get it on the site, the sooner it will be seen by your followers and potential customers.