Easy DIY Flip Sticks Help with Classroom Management
Do you have some craft sticks or popsicle sticks stashed away in your teacher cupboard or craft area? They make amazing tools for classroom management!
You can use a random craft stick to create equal opportunities for your students to participate and share responses in class. (You can also use them for chore sticks, instead of student names on each stick, put a chore name on each one. Your child chooses a stick and completes that task!)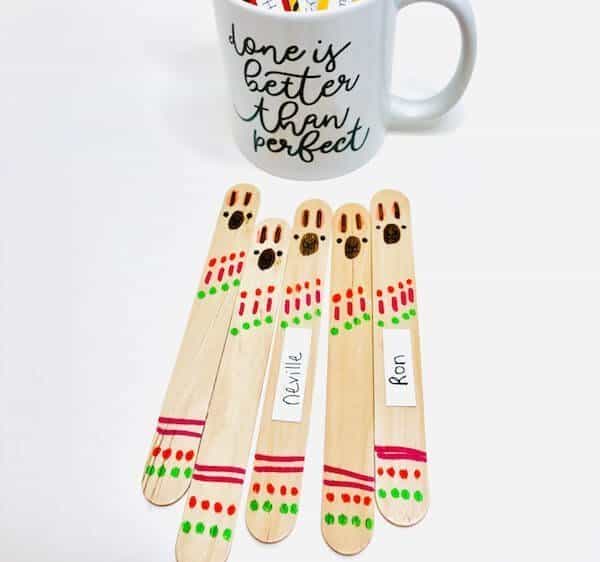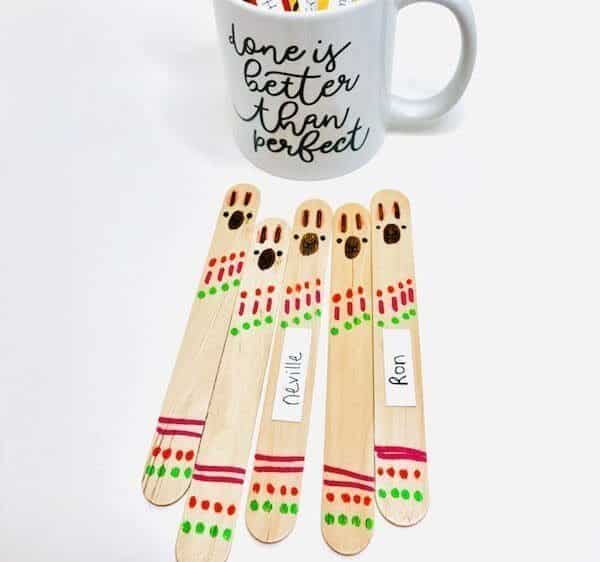 Creating a random order for calling student names during discussions and activities will help you to keep track of students who have already participated as well as ensuring better classroom management and time management.
It's a great way to track your call and response moments during the day and students know that if they have not already been called upon during a lesson, they will still get a chance to participate. Using craft sticks or flip sticks is also a great way to ensure that the same child who eagerly raises their hand for every question isn't taking time away from other students who may be a little slower to respond.

Create Some Fun Flip Sticks
Your flip sticks can be any design you can think up. This post will showcase 4 designs.
Two of them are super simple and fast to make. The other two might take a little more time and creativity…but they are adorable and you can resume them if you make them with labels for names, so the time and effort is worth it.
I sat in my craft room for about an hour and made 20 flip sticks (4 designs on 5 popsicle sticks for each design).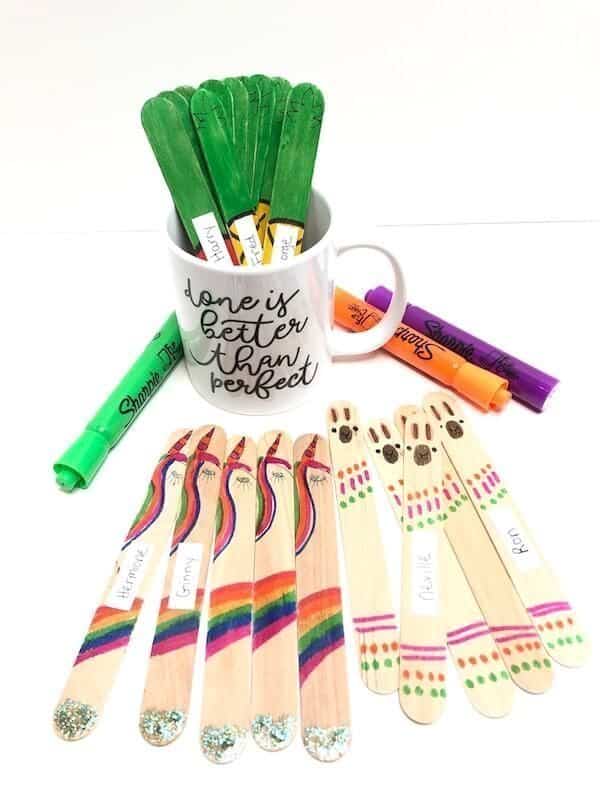 *this post contains affiliate links, please read my disclosure for more information
You can make watermelon and pineapple flip sticks very quickly. The llama was easy and quick as well. The unicorn sticks take a little more time, but they were easy and fun to color. Get creative and have fun coloring. Ladybugs would also be cute! See where your imagination takes you!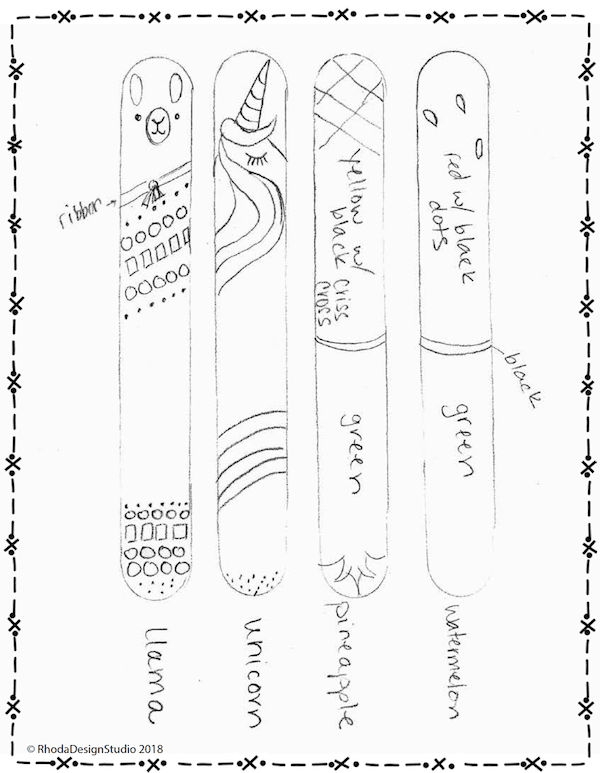 Materials:
How to Make Flip Sticks
Count out enough craft sticks so there is a stick for each child in your class. You may want to make a few extra so you have them if new student join the class during the school year. This will save you from having to dig out all the supplies just to make one or two sticks.
Use a Sharpie marker, permanent marker, or Mr. Sketch markers to color your craft sticks. You can use any design that you prefer at fits your room theme. Pick a design that you can tell the difference between each end of the stick.
Add your student's names using a label maker or by printing or writing them on Avery labels and then adhering them to the popsicle stick. You can also add numbers to the sticks if you assign students their own individual numbers for the school year. This way you can reuse them each year without having to relabel them.
Use a cup, a fun pr, or an office supply basket to hold the flip sticks. You want a container that will hold all the sticks and that makes it easy for you to select the next stick without having to dig down into the container. Old soup cans work great as well.
How to Use Flip Sticks in Your Classroom
Now that you have a container full of craft sticks, how do you use them for classroom management? Make sure the sticks are all facing the same direction. If you created pineapple sticks, all the green ends would be facing up. If you created llamas, all the faces would be pointed up.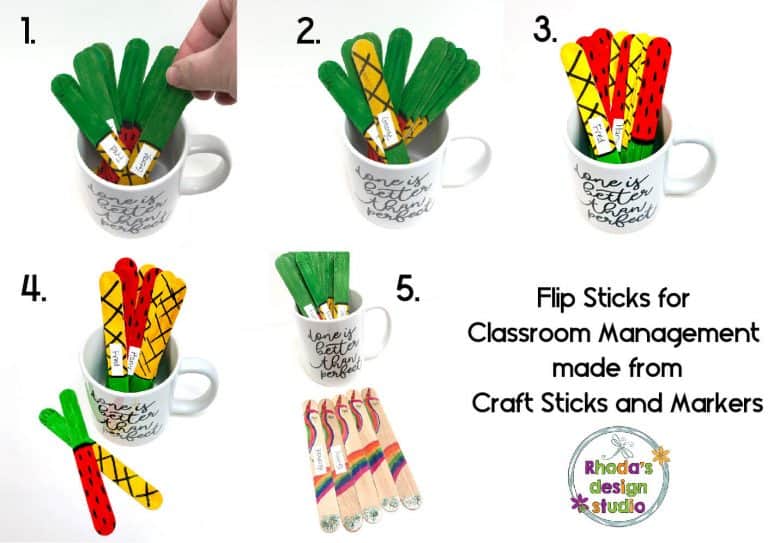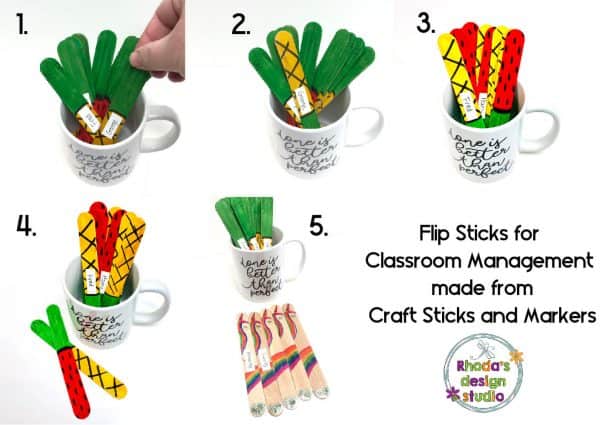 During a class discussion or lesson, when you need to call on a student, you will choose a stick from the container. This helps eliminate the need to keep track of how many times you have called on an individual student. You choose a name and that student answers the question.
Once they have finished with their response, you will return the popsicle stick to the container, upside down. Continue drawing sticks and calling on students for responses, classroom chores, discussion, etc. Each time you will return the stick to the container, upside down. Once they are all facing the same direction, you can start over and flip them the other direction, or grab the bundle and flip them all over to start again.
Giving students a chance to opt-out or get help from another student if they are unsure of their response or task is a good idea. That takes a little pressure off the students who don't like responding as often and gives other students a chance to help.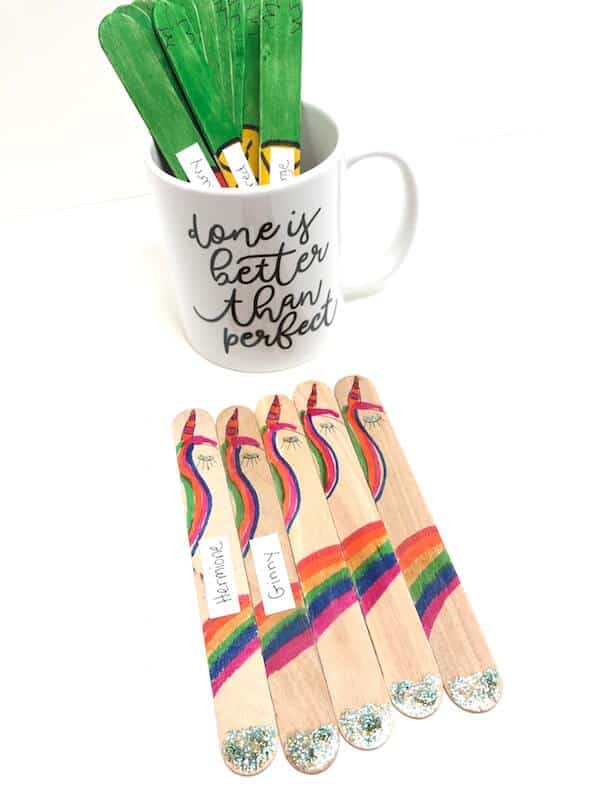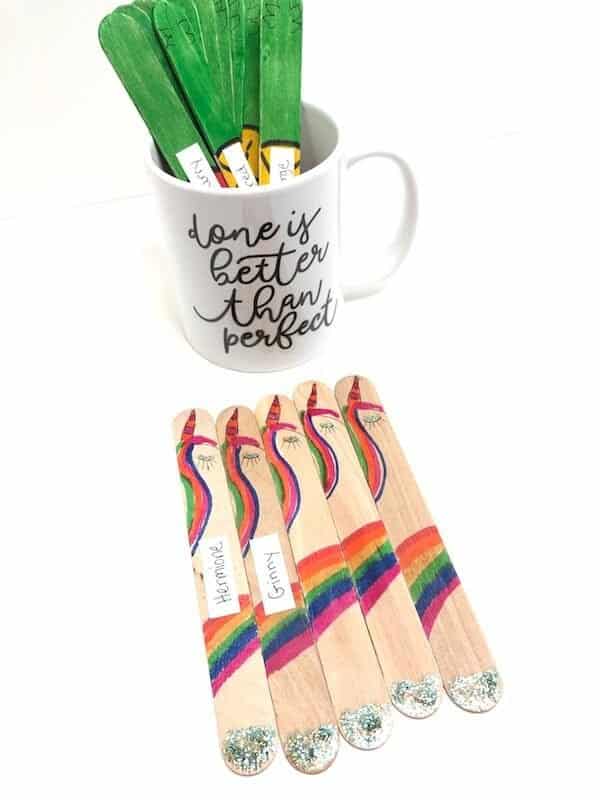 You can use flip sticks at any point in a lesson to increase engagement from all students. Use them to ask lesson warm-up questions, to randomly call on students to gauge their understanding and involvement in the lesson, and you can also use them to assign students to groups or tasks.
If you enjoyed this post, please pin it and share it with your teacher-friends!! 🙂