Remember the days of creating math worksheets for your students by drawing the boxes on the paper with a pencil? Handwriting all the questions, numbers, and titles?
My fondest memory is when one of our teachers would make worksheets that included his personality. Those were the best assignments we could ask for. Illustrations and corny jokes included in the margins.
I still have copies of those worksheets in my treasure chest.
It's a much easier and smooth process to make math worksheets for your kids than it ever has been. There are a number of different choices for software to design in. Artists are offering clipart and design elements that are specifically for teachers who want to make their own worksheets.
There are even fonts that help you create math worksheets! No need to worry about lining up division symbols or fractions!
Loads of Free Worksheets on the Web
If you search the term math worksheets you will find pages and pages of pre-made worksheets that you can download. The problem with these math worksheets is they are usually some form of skill and drill.
We have all had discussions on the use and effectiveness of worksheets in the classroom. The thing is, worksheets can be used effectively and be a lesson saver (or a teacher's sanity saver). They don't need to be the hub of a lesson and they definitely do not need to be the only method of assessing a student's progress.
How Can You Make Worksheets More Engaging?
Roll and Solve (or Spin and Solve)
Add an interactive component to math worksheets. Even if they weren't designed that way. Give your students a pair of dice and have them roll a number. They can either add, subtract, multiply or divide to get a number. Then they answer the problem for that number on the worksheet.
Students will then roll again and perform another math operation to select another problem on the sheet to complete. Set a limit. They probably won't be able to finish an entire math worksheet this way.
Setting a time limit or a limited number of problems that need to be finished will make it feel less daunting. It really only takes 5-10 questions for you to get an accurate assessment of whether or not they understand the concept.
You can adjust this to meet the skill set of your students and the math operations or skills they are working on.
There are a number of pre-made worksheets on Teachers Pay Teachers that provide a "roll and solve" approach or a spinner that determines which problems they work on.
Use a Math SCOOT
Math SCOOTS are a great way to make a lesson interactive and get students moving while they are learning. The LOVE them and they do not need to be done with just Task Cards that you pre-purchase or create.
Make the usual number of math worksheet printables for your classroom and pass them out. Instead of having your students sit in their seat and complete the entire worksheet on their own, instruct them to only fill out a certain number that you have assigned. (Each student will need a number and you need to make sure the worksheet has at least that many questions or problems on it.)
Set a timer for 30 seconds to 2 minutes depending on the difficulty of the skill being practiced or the amount of time it takes on average to complete a problem (story problems or long division will obviously take longer than a simple 2-digit addition problem).
When the timer sounds, students will SCOOT to the next number seat and answer the next problem on the paper. So if a student were given number 9 they would complete that question on their own paper and then move on to question 10 when the timer sounds and complete the next question on the paper. By the time they have moved to each seat, they will have completed an entire math worksheet…just not on their own sheet of paper.
You can extend this lesson by letting the student put their name on the paper that is placed at their seat. Now they need to correct the paper and see if there are any errors. If there are, they need to resolve that problem to correct it.
Some of my favorite worksheets on Teachers Pay Teachers are created with the idea that students need to find the errors. They would much rather work to find something wrong on a paper instead of solving the problems themselves and possibly making a mistake themselves. It's a higher order thinking skill that they really enjoy using!
Make Your Own Math Worksheets
How can you make worksheets that are more rigorous or ask higher level questions? It's doesn't take long to make a basic math worksheet that you can use right away in your classroom.
Open PowerPoint (if you don't have PowerPoint or don't want to use the Microsoft Office products you can do all the basics using Google Slides…tools might be in a little different location on the toolbar, but you can figure out where they are pretty easy.)
Change the size of your slide to paper dimensions and not the presentation size. This needs to be done right off the bat. Do not start designing and then change the size. It just creates more work for you!!
Add your questions/problems by adding text boxes and shapes as needed.
Dress it up. If you want to add a border and clipart to make it visually appealing, more fun and engaging, to add some character or fun facts for your students…this is the step for that. Boxes, sections, cut lines, etc. Add what you want to make it unique and yours!
Step-by-step Process to Start Making Worksheets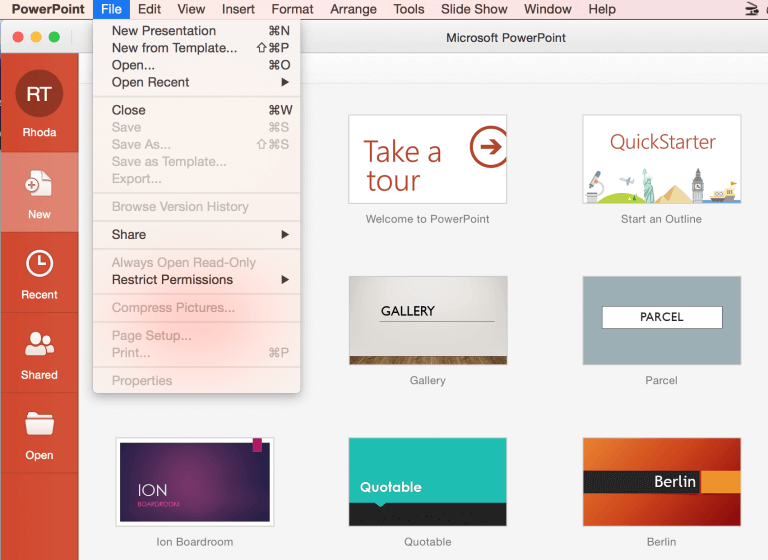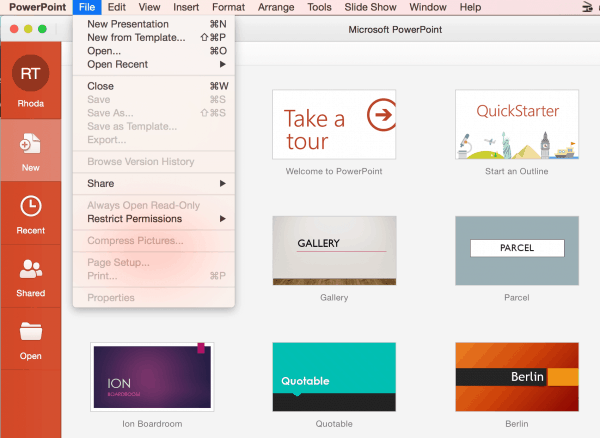 Open up PowerPoint and click on the "blank" project in the upper left-hand corner or go up to FILE and choose NEW PRESENTATION.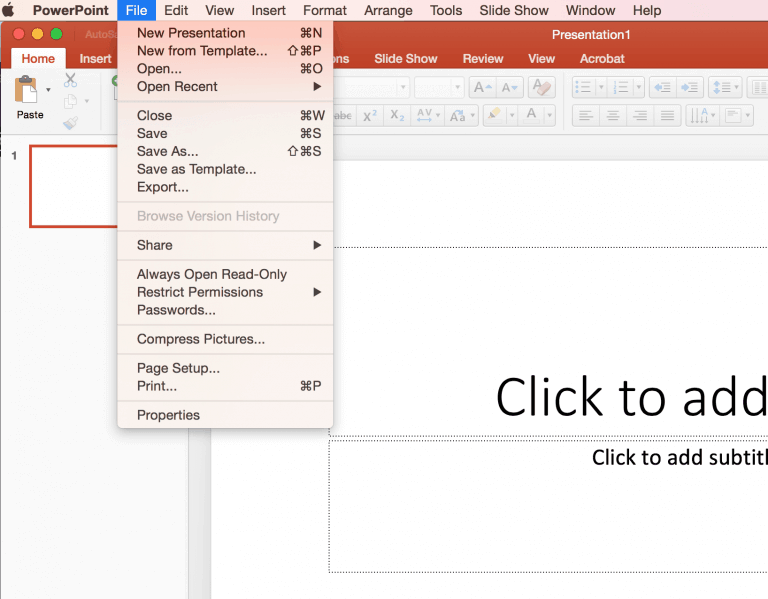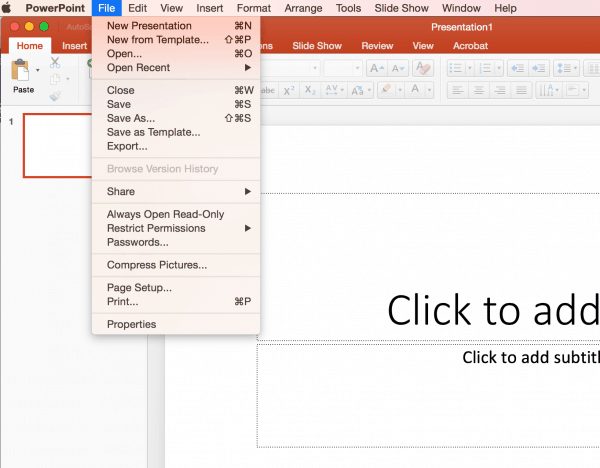 Next, click on the PAGE SETUP so you can adjust the size of your page.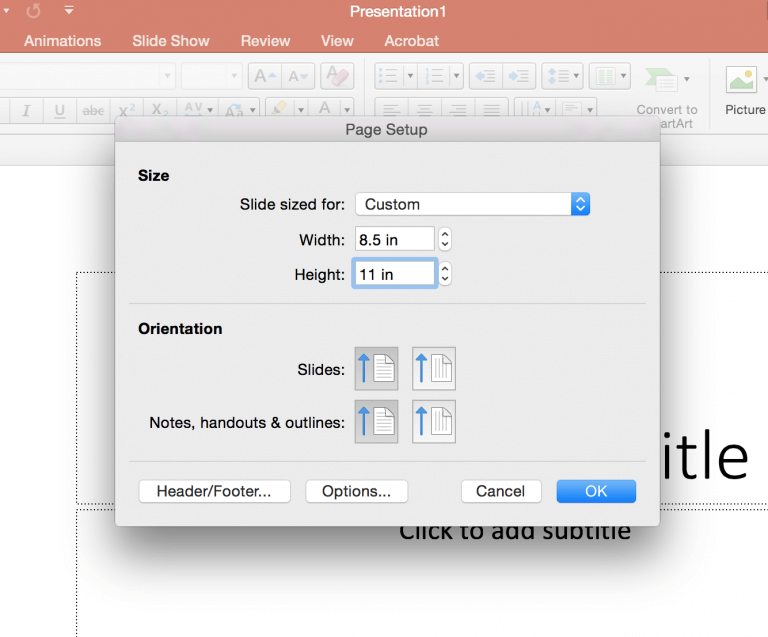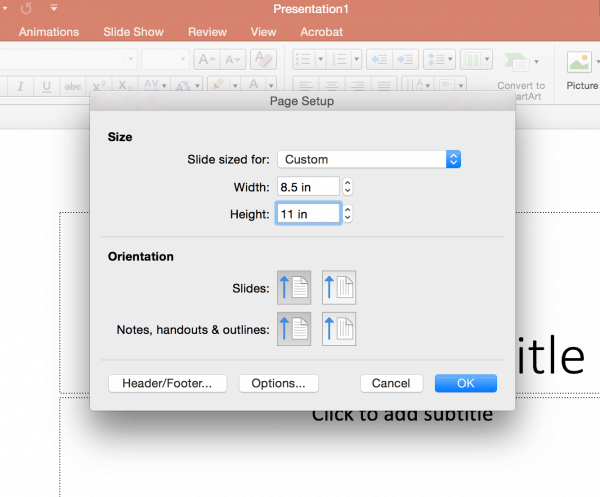 You can change the orientation of your page by adjusting the dimensions (8.5 x 11 for portrait or 11 x 8.5 for landscape). Click OK.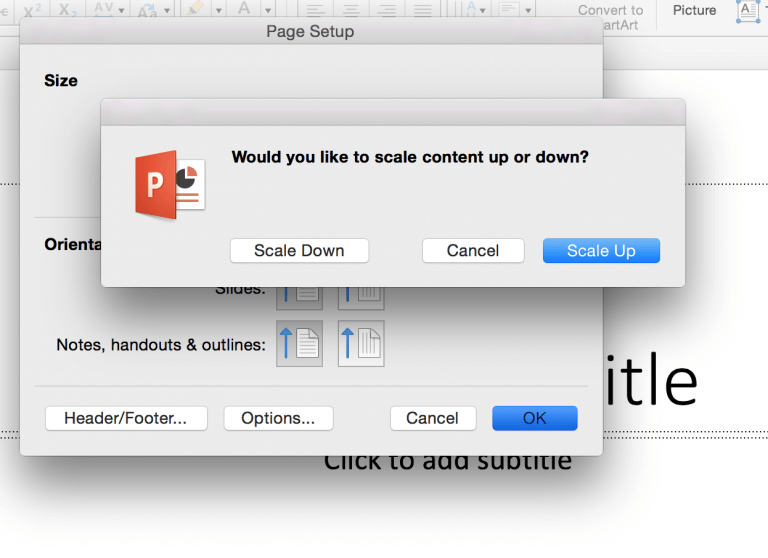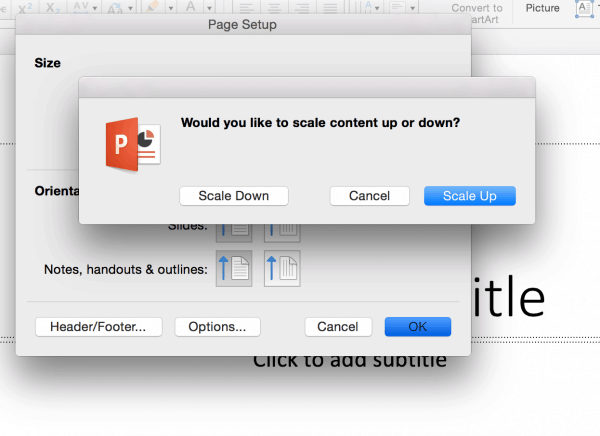 If you have added anything to your presentation before you adjusted the size you will want to click SCALE-UP. If you have not added any elements or design yet, it doesn't really matter which option you choose.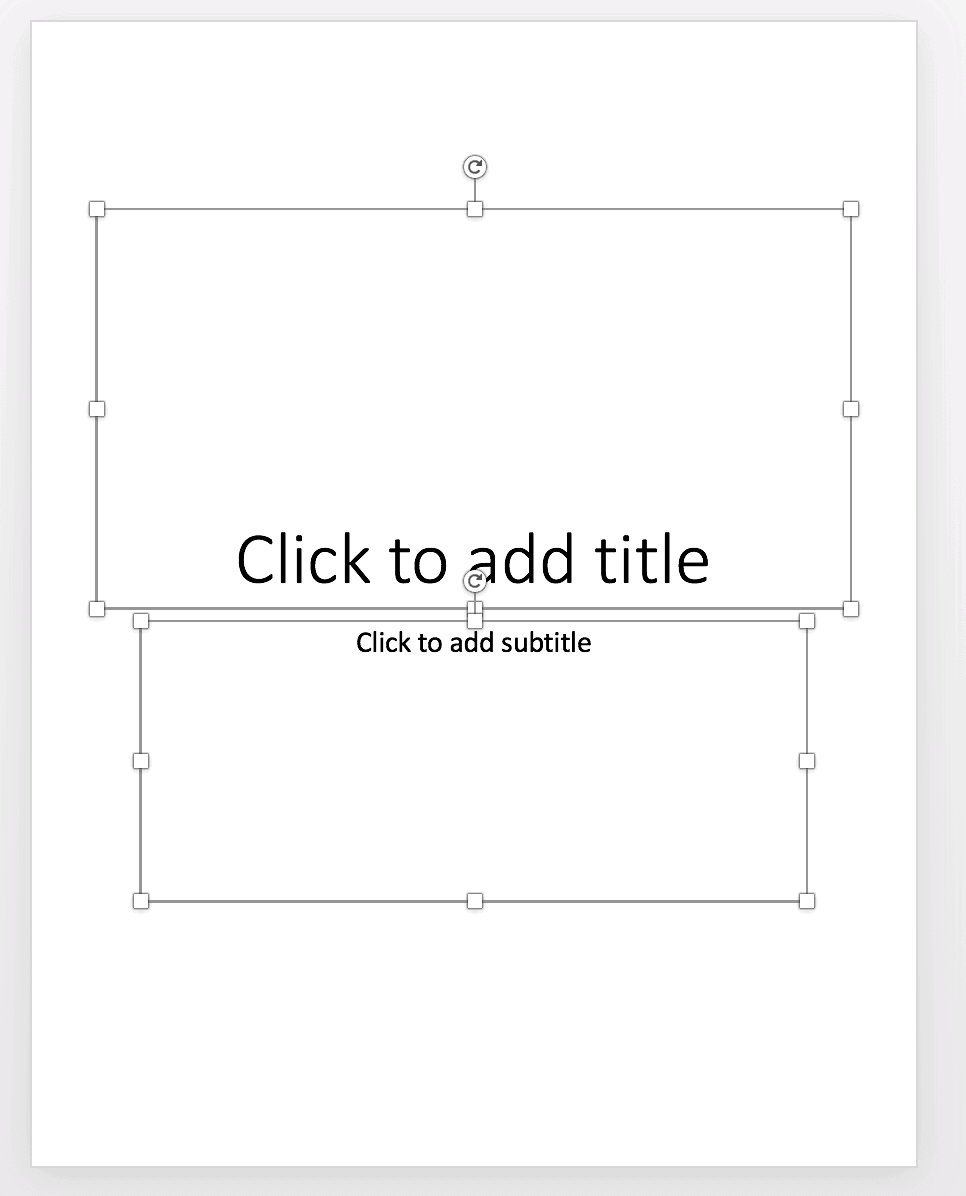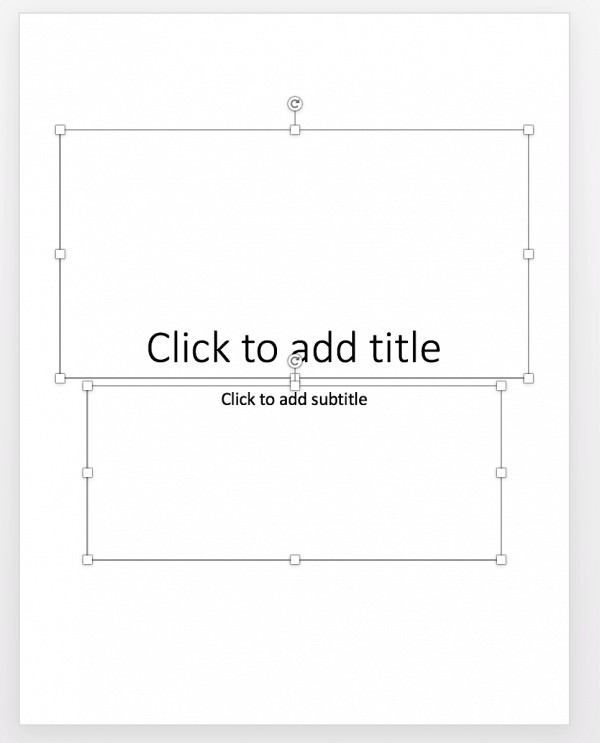 Click in the upper left-hand corner of the slide, hold down and drag your mouse across the page to highlight all the elements that are currently there. Then hit DELETE.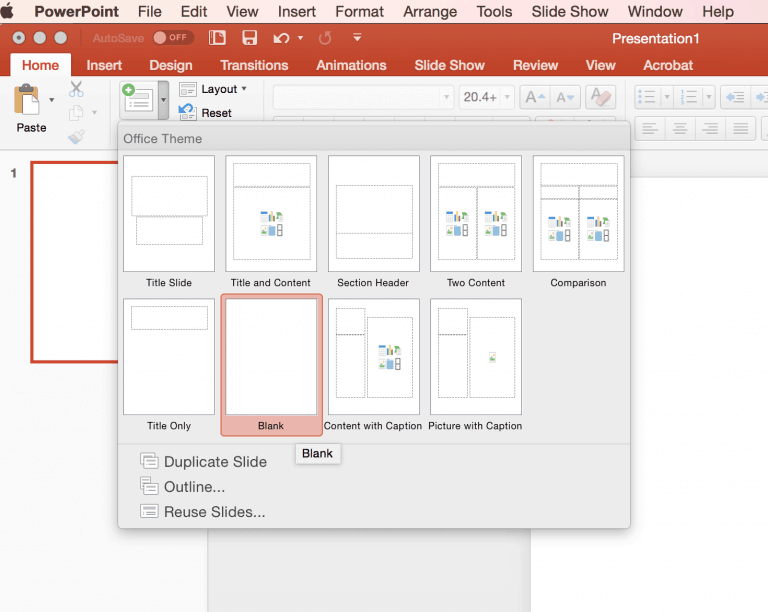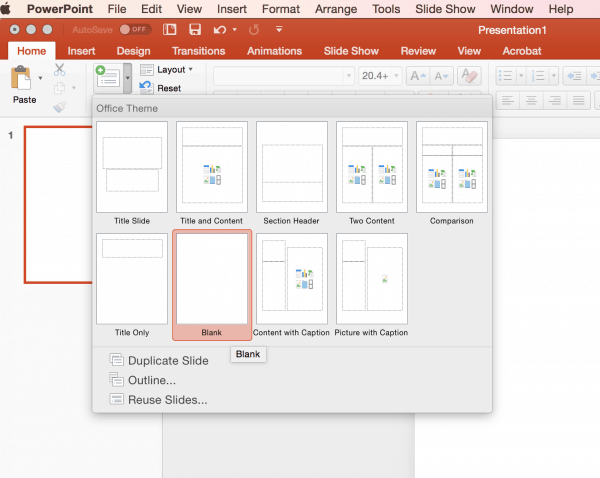 Click on the down arrow on the right-hand side of the NEW SLIDE icon (with the green plus sign) and then select BLANK. This will make it so each time you add a slide to your document it doesn't have any extra elements on it. Saves you the time and hassle of having to delete them each time.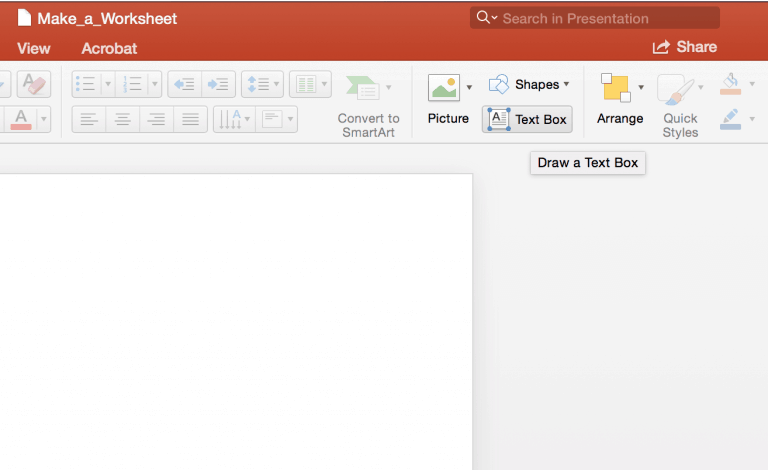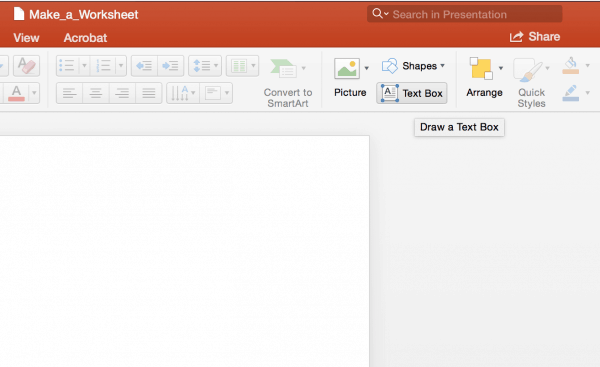 Select TEXT BOX on the top right of your toolbar. Click somewhere on the document and start typing. Add your title and the "name" line or any other main information you want on the worksheet.
Tip: If you plan on making multiple worksheets and don't want to spend the time repeating the basic information on each one…you can "duplicate" the slide at this point. Each duplicate will have all the same information and style.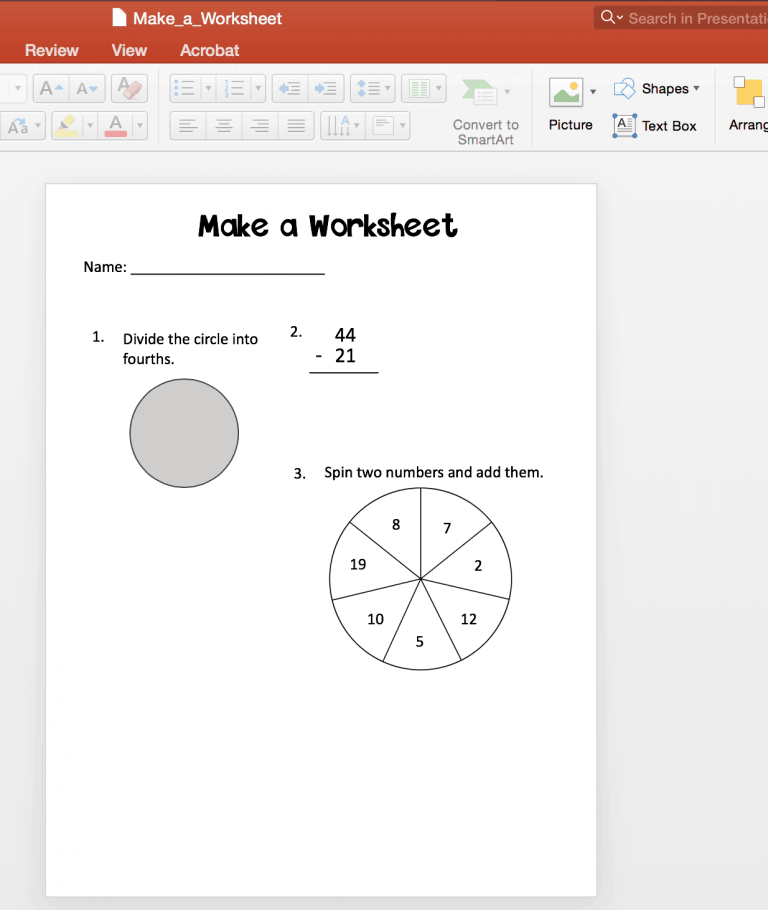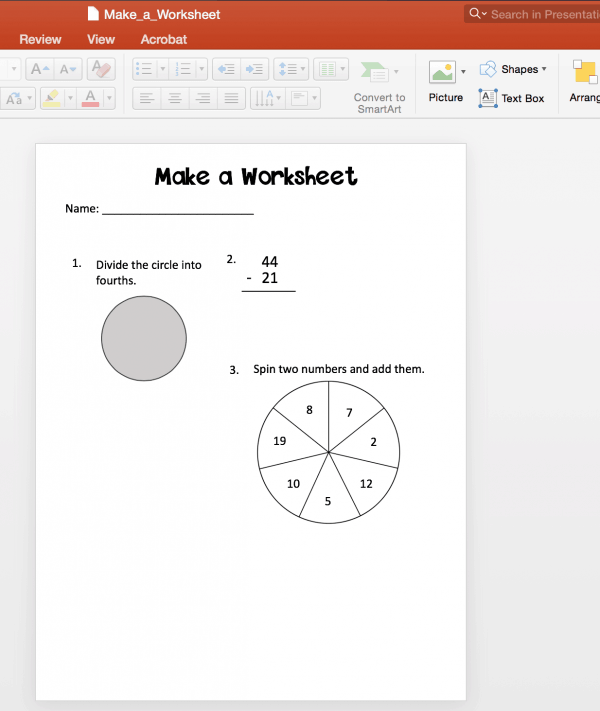 Add your questions, activities or the other information you want on your worksheet printable. Think about the concepts you need to cover, ways to present the skill that shows higher order thinking, or can be used in an interactive way during centers or group work.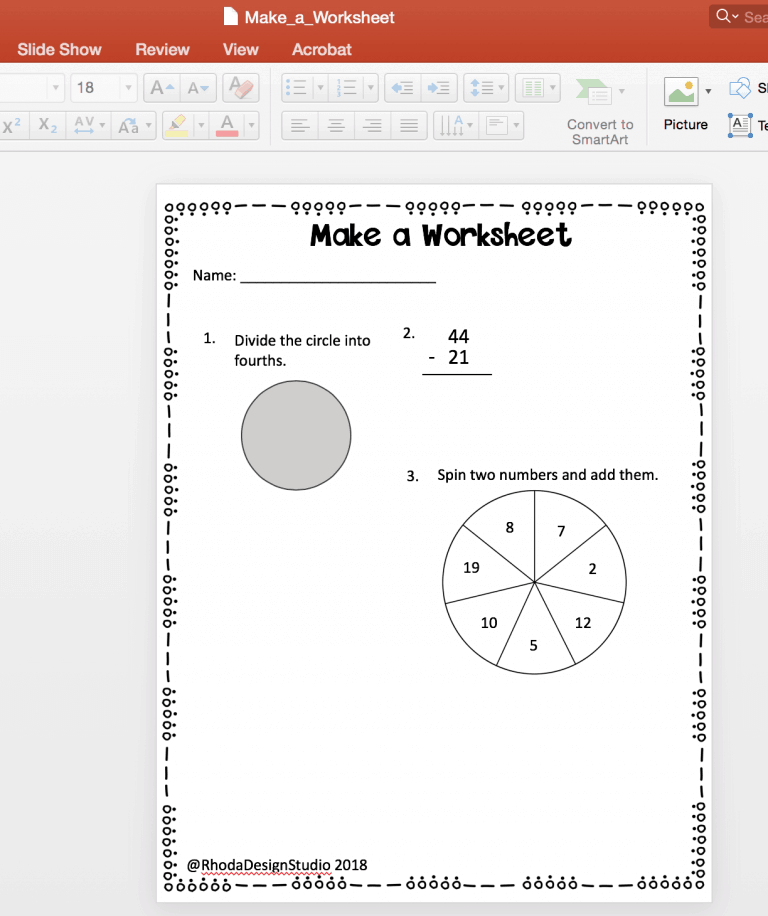 If you plan on sharing your worksheets, this would be time to add in borders, fun clipart, your copyright information or any other "design" elements that will make your worksheets memorable, engaging, and valuable for your students and students in other classrooms.
The basics steps apply whether you are making worksheets with PowerPoint or Adobe Illustrator. Choose a program that you are comfortable with and then learn it. The more you work on designing lessons and worksheets the better they will look and the faster you will get a making them!
When you have designed your worksheets, you will save them in two different formats. Save the PowerPoint in its original version. This way if you need to edit the pages, fix a question, or add something to it, you have your original file and don't have to reinvent the whole thing.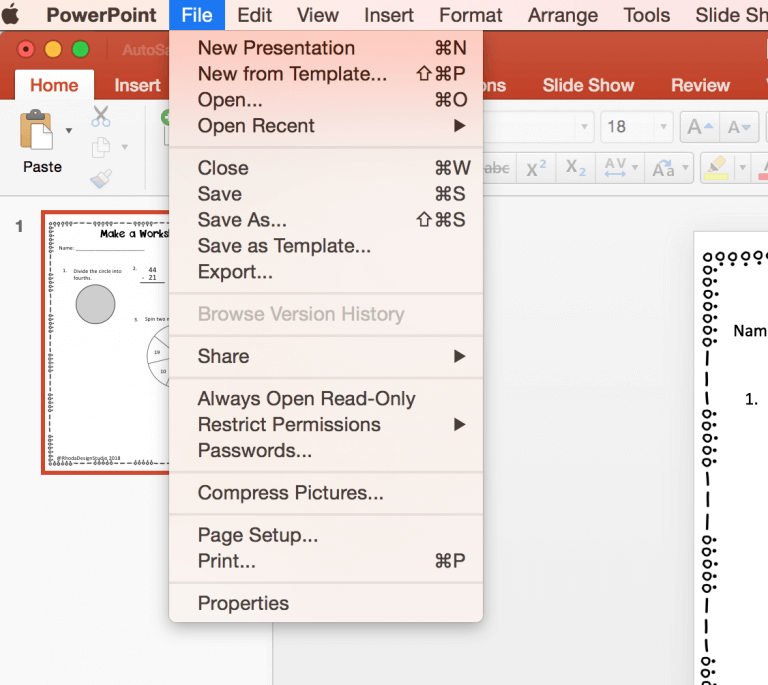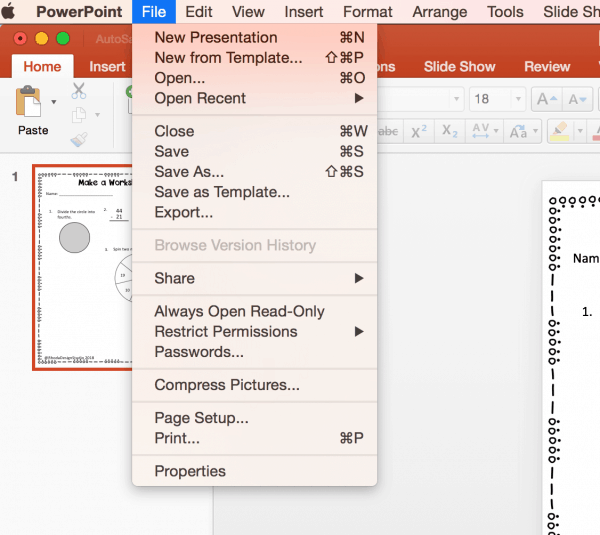 If you are creating worksheets that you want to share with others, then you will also need to EXPORT your file as a PDF and secure it. If you are not sharing the file, you can print directly from your PowerPoint or Illustrator file and use it immediately.
What types of worksheets do you use in your classroom? What type of worksheets do you want to make?
[mailerlite_form form_id=5]