Teaching with Board Games in the Classroom
Teaching with board games is one of my favorite things. Board games have always been one of my obsessions. Some of my earliest memories are playing "Sorry" and eating popcorn. Sitting on the floor playing "Uno" when I barely knew my colors and I was just learning to recognize my numbers. Being part of a circle of friends and playing "Spoons" or long heated battles of "Skip-Bo".
Even as a teenager, game time was more entertaining than television. My cousin and I spent hours playing "Clue" and "Connect-Four" or "Battleship".
Education and Games
Over the years, I have tried to instill that same love of games in my children and my students. Both my classroom and my home have a cupboard stuffed full of games. Some of them are great for game night with the whole family, others my kids take out and play with each other or the neighbor kids come over and play. In my classroom, my students are always excited when we have a snow day because they can play in the game cupboard.
The best part: games are educational and most the time, children just feel like they are playing and having fun. Bonus!!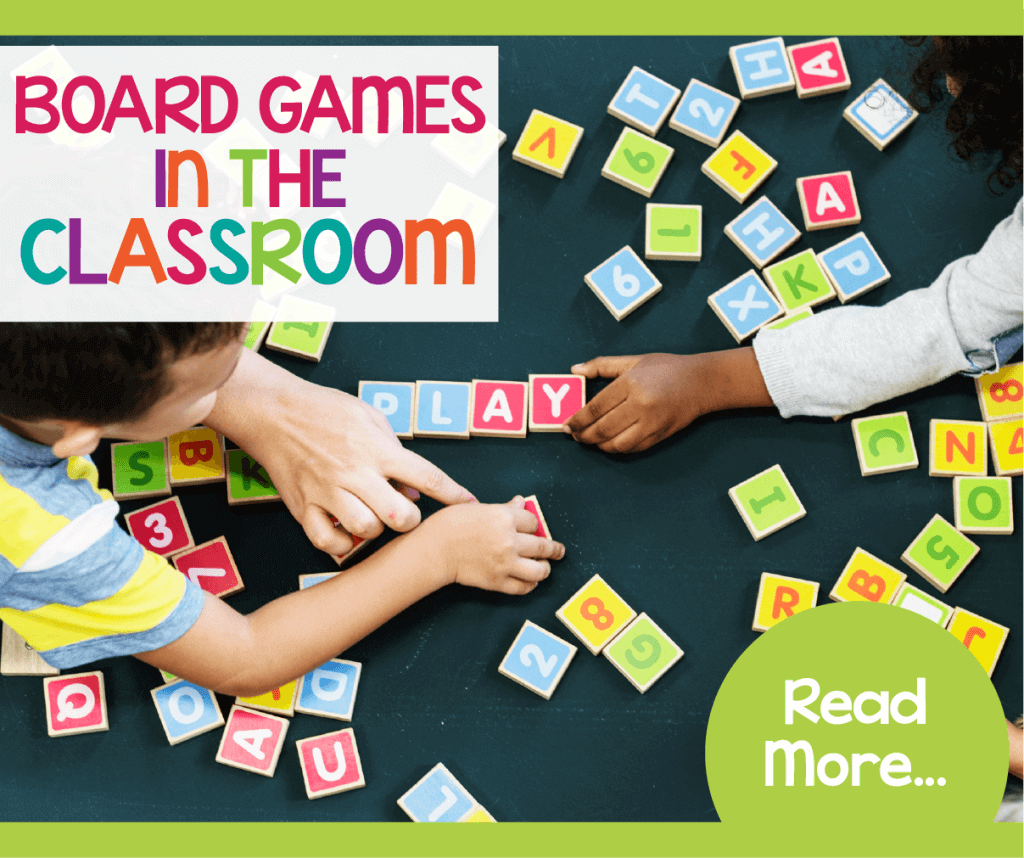 *this post contains affiliate links, please read my disclosure for more information
The following list is just a few games that are great if you are wanting to use board games in the classroom. Want to see the whole list (plus a few other classics) in one glorious visual array?  View the Teaching with Board Games list:
Games for Literacy:
Math Fluency:
How Can I Find Time for Teaching with Board Games?
Indoor Recess or Classroom Rewards
If you use a classroom rewards system in the classroom, then incorporating games can be added to the reward list just like extra recesses or movies.
Unplanned time like an indoor recess on a super cold day is another great time to bring out the games in the cupboard. Student's will get a brain break and you will get a few minutes of non-teaching time to refresh your own brain and get ready for the next session of learning.
Family Night or Parent Night
Our district has a "Family Night" once a month. We set a theme, serve a free dinner for the community that is provided by one of the high school classes, and then have activities for parents in different classrooms. We set up the classrooms as centers or stations. Setting up a bingo game or a board game on different tables is a great way for parents and their children to interact in the educational setting.
Where Do I Find the Money Teaching with Board Games?
This list of games above is linked to Amazon. That's not the only way to collect the games you want or need for your classroom. Yard sales are a great way to add to the games you use in your classroom. There are a few different ways you can add to your collection. One way is to use money that you receive from Adopt a Classroom or create a Donors Choose request that will help you start a really great collection of games.
You are a teacher. You are resourceful. I'm sure you will be able to build a great collection of games that you and your students will enjoy for years to come. It might be hard to find the time but teaching with board games is a great addition to your lesson plans!
Related Posts:
Benefits of Creating Teacher Resources
Make Money Outside of Teaching