Shopping online for teacher-created resources can sometimes be overwhelming. There are a number of options and while some of them look good on the surface, they are not all created equal. The site "Teacher Created Resources" looks like it might be a great resource for teaching resources.

The site offers borders, free lessons, and classroom décor. Their lessons are step-by-step and include procedures. However, they do not include all the materials or content necessary to complete the lesson.
If you wanted to use one of their lessons, you would have to still search for content and materials that would help create an engaging and rigorous lesson.
Shopping for teacher created resources on Teachers Pay Teachers is a little different.
Finding Teacher Resources on TPT
When you purchase a lesson from a Teachers Pay Teachers shop, you are not only getting teacher created resources, you are getting everything you need for the lesson. Materials are included that can be used digitally or printed and made into centers or handed to students to use with little to no-prep.
You can purchase teacher resources for your classroom that include décor, bulletin board ideas, interactive digital lessons, math manipulatives, art projects and a number of other resources while shopping on Teachers Pay Teachers.
Teacher Supplies for Classrooms
On the site of Teacher Created Resources, there is a number of classroom decorations, posters, lesson plans, and buttons. Most of the teaching materials are commercially made and not necessarily "teacher created resources" like the website claims.
There are few shops like this on Teachers Pay Teachers as well. Big name curriculum companies have added their digital versions of workbooks, textbooks, and student practice packets.
The difference is that the teacher supplies created on Teachers Pay Teachers have actually been created by teachers who are currently working in the classroom. They are ideal for use in your own classroom.
Some of those teachers have made such exceptional products that they earned more from selling their lessons than they did teaching, and they have left the classroom.
A number have left for maternity leave, to spend time with their own children while they are younger, or to travel and homeschool their children because they now have the freedom to do so.
When you purchase teacher created resources from Teachers Pay Teachers you are supporting hard-working teachers who know how to create a lesson that will work in your classroom as well.
Teacher Created Materials
Why should you buy teacher created resources? Especially from teachers who sell on Teachers Pay Teachers? Because you are getting quality lessons that have been tested by 100's of other teachers and their students.
Check out the feedback on most products that are listed in teacher stores. One major recurring theme is how much a teacher loves a product, how well it fits their needs in the classroom, and how their students were engaged and LOVED the lesson.
Now go read the reviews on the commercial teacher products and lessons on other sites like Teacher Created Resources or The Scholastic Teacher Store. Are the reviews as heartwarming and inspiring as they are on TPT?
Teacher Stores
Usually, a teacher seller on Teachers Pay Teachers will find a niche or a specific content area that they are really good at teaching. Then they offer these dynamite lessons in their teacher stores for other teachers to download and use in their own classrooms.
When they create lessons that are in their field of expertise, they create them with passion. They want you to succeed with the same lesson in your classroom. They think through all the minute details and add them to the lesson. This helps you to engage your students and offer the same learning experience that the teacher-author was able to provide to their students.
Many teacher authors will go back through the material that they have created and revise and edit things that were incorrect or didn't work the first time. This is one of the benefits of being a teacher-author who sells lesson online. Larger curriculum companies do not fix errors or typos for years. They wait until they have enough money to pay for another print run.
Finding Premium Teaching Materials
Maybe you are wondering how to search for the best lessons to fit your needs on Teachers Pay Teachers. One of the many perks about TPT is that they are constantly upgrading the user experience and making the process easier for you. They know that as a teacher, your time is valuable.
Once you are on the TPT website, enter the topic or teacher resource term you would like to find.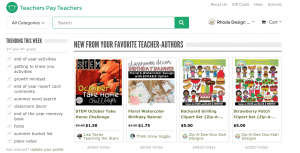 You will get a list of products that meet those search criteria, but there is probably a LOAD of them. To make your search more specific to your needs, click one of the grade level boxes over on the left. Products that have been tagged for that grade level will be shown (and maybe the one above and below it as well).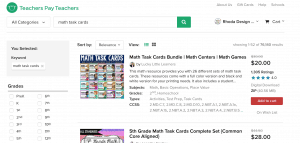 The newest feature allows you to search by CCSS as well. Teachers mark their resources with the appropriate standards that are covered by the resource. Therefore, you to know what standards it covers and if it will work in for your needs.
Not All Teacher Created Resources Are Equal
It's possible to find sub-par lessons on Teachers Pay Teachers. Just like you may find on other websites offering teacher created materials and lessons. The difference is that if it's a poor-quality lesson on Teachers Pay Teachers it is usually easy to tell.  Reading through the number of feedback or viewing the number of products in the shop can tell you a lot.
Sellers who offer teacher supplies that do not meet expectations usually will not spend the time to create more resources. If they are not getting any downloads, receive poor feedback, or are not making any sales they don't create more products.
Teaching lessons with quality teacher created resources will be very rewarding. Students will be engaged and will enjoy lessons that are kid tested and teacher approved. What are your favorite resources from Teachers Pay Teachers?