One hundred million people can't be wrong about marketing with Pinterest. Or we all have major addictions.
People are visual by nature.
Proof of that is watching Pinterest's audience and users reach sky high numbers year after year. Pinterest is the 2nd largest search engine not owned by Google!
*this post contains affiliate links, please read my disclosure for more information


When we see information along with something that is visually appealing, it sticks in our brains better. Get creative, make some engaging images with information that helps your visitors or clients and then start pinning to make your business thrive. Learn the strategies that will help to increase your traffic and sales by marketing with Pinterest.
[mailerlite_form form_id=3]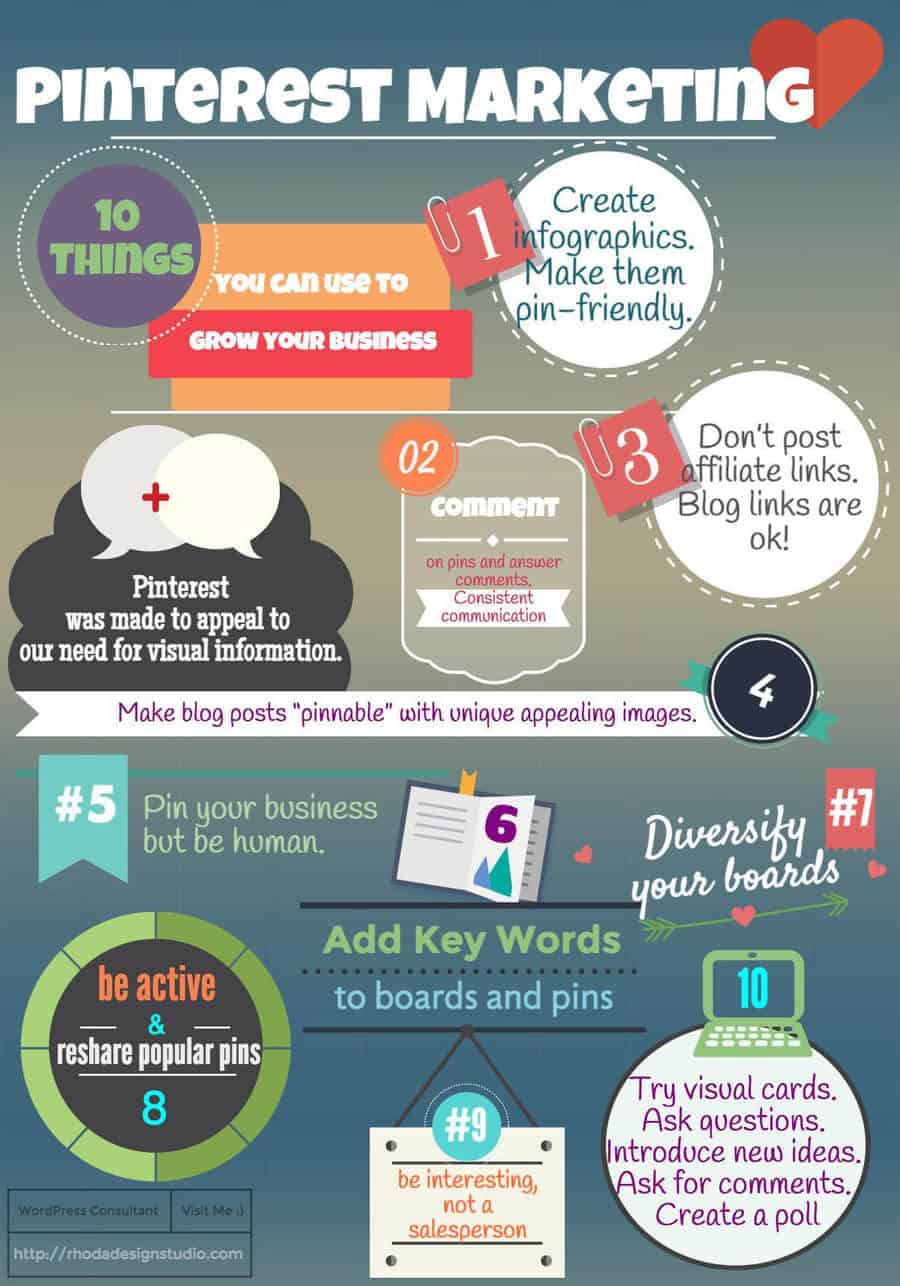 And the 10 easy steps:
Create infographics and pin them.
Comment on pins. You can comment if you want too. However, it is stated more and more often that Pinterest is a search engine, not a social media platform. If you want to commen and communicate as a way of marketing with Pinterest, you can. Just know that it's not the most effective use of your time.
Don't post affiliate links. It's a no-no. This is no longer off limits. Just be sure to check the rules and stipulations for the affiliate program you are using. If you want to drive traffic to your affiliate link, then blog about it. Pin something that takes traffic to that blog post (this is still a great way to generate affiliate income because you are establishing trust!).
Create blog posts that have images that appeal to your audience. Pin those.
Pin things about your business, but be a human behind that business.
Add keywords to your boards and pins. Be consistent with it. Using Pinterest is a way of marketing and SEO matters.
Diversify your boards. That's part of being human too. Show your personal interests.
Be active. Share others pins. Don't just focus on your business pins.
Don't be boring. Or a pusher. Be yourself…because that is interesting.
Try making your pins interactive. Ask a question. Create a poll. Do something that engages your audience.
There you have it. See! Easy peasy steps to marketing with Pinterest. You might as well…you know you are one of those 100 million that are addicted to it anyway. I know I am!
Maybe Pinterest isn't really your thing, or it's overwhelming to think about adding something new to your already long "to-do" list. Start with the basics and learn as you go.
Related Posts:
Benefits of Creating Teacher Resources
Make Money Outside of Teaching
3 Ways a Pinterest Virtual Assistant Can Help Grow Your Business
[mailerlite_form form_id=1]