There are loads of interventions that require printing, organizing, laminating, etc. If you are wanting to implement digital classroom resources, then how do you customize your interventions and keep a paperless environment?
In this series, I will discuss some of the things I like to incorporate into my 3rd/4th grade blended classroom.
Other posts include:
It's actually easier to provide interventions as a digital classroom than it is as a paper-based classroom (at least I think so). With paper interventions, you are keeping track of how many copies of a resource you need to make. Where the grading sheet is for that intervention. If you have enough copies. What if that student changes levels next week and you have all the interventions already printed? Yikes!
With a digital classroom, you can just reassign a digital lesson or resource. Easy peasy. Did they move up a level in spelling? Add them to the new list.
With math, you can use Apps on iPads or tablets, websites that provide fact fluency, MobyMax to assign standards that you know they are struggling with (and Moby also will provide lessons after assessments that your students are not proficient in as well).
Resources for Google Classroom
You can also assign activities and task cards via Google Classroom. Differentiate their topics based on the NWEA MAPS scores or use digital task cards as a spiral review and test prep.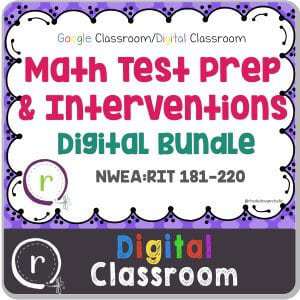 Creating a Google Classroom and sharing resources with your students via an iPad or Chromebooks is one of the best things you can do for organizing digital classroom resources and creating math interventions that are relative and engaging for your students.
Need a little help? Sign up for my newsletter and get a free download that will help you assign a digital product to your students, provide some hands-on math interventions, and give you some tips to make interventions easy for you to provide and fun for your students to work on! There is also a free set of task cards designed specifically for interventions or MAPS testing practice:
[mailerlite_form form_id=5]
What more would like to learn to be able to implement digital classroom resources or interactive math interventions in your classroom? Leave me a comment below 🙂
Related: Classroom Math Intervention Strategies